This 100% BDSM Silk Bamboo Rope is great for bondage to restrict, restrain, immobilize and intensify your partner's sensations. It's also ideal for predicament rope bondage or many different beginner non suspension shibari / kinbaku scenarios. Guarantee silk bamboo rope will intensify both of your erotic experiences and enhance your intimacy experience. 
The soft sensation of silk bamboo rope on one's bare skin time and time again will create a memorable experience. This rope is soft and supple without a "burn" feeling one gets from pulling hemp or synthetic rope too quickly across one's body. Bamboo fibers are also known for their natural anti-bacterial properties. Silk bamboo rope is great for "messy" rope bondage that's around a crotch or used for CBT or mouth gags etc. I can certify based on my experience and fifteen year career as a professional dominatrix that all of my clients preferred silk bamboo rope over hemp or cotton.
Each rope bundle is approximately 27 feet and 6 mm in diameter. The rope is spun with three strands to a medium to tight twist. The rope is knotted at each end and has an extra double reinforcement with black thread that is sewn around each end. You'll need at least two rope bundles which is why I sell only in pairs of two rope bundles of the same color per order.
I assure you that your purchase will be sent in a plain cardboard box (without a business name on the box) to ensure your package will arrive in a discreet manner.
I can currently process and ship one order (a package of 2 rope bundles of the same color per purchase) within 1-2 business days. If you want more than 2 rope bundles so 4+ rope bundles in one order please note it will take two to three weeks for me to hand dye and process your order. 
Prices include shipping to all Canadian and USA customers only. I currently have a direct PayPal link for you to check out with until I set up a direct link to make your payment. When you check out let me know what color you're wanting. Colors are listed in order to the images shown which are: 1. Cobalt Blue – 2. Red – 3. Pink – 4. Rainbow: which is a Yellow, Green, Blue, Purple, Pink Ombré.
Your order will be shipped within 1-2 business days – You will receive an update with your tracking number as soon as your items have been shipped.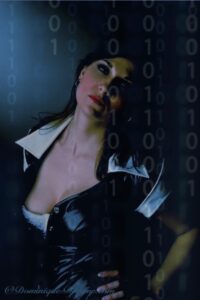 I will tease you, taunt you, and wrap you around my finger. I will take you places; nice places, naughty places. Places you have never imagined before. You've come here because you have a craving. Now, what are you going to do about it?
"He who hesitates is a damned fool" – Mae West
Copyright © 2023 DOMINIQUE DOMME